These days, providing remote healthcare is crucial to the safety of patients and health professionals alike. Even before COVID-19, technology had started to change the way patients were able to schedule appointments, order refills and engage with doctors. Today, many healthcare services have fast-tracked their adoption of technologies that enable them to provide remote patient services.
The need for telehealth services during the pandemic has shined a light on solutions that allow for "low touch" or remote patient care. These virtual tools keep healthy people out of hospitals and doctors' offices and enable all kinds of remote services—services that will be valuable even in the new normal.
5 Strategies for Remote Patient Care
In a survey of physicians who've used telehealth, 77% said it contributes to a "more efficient use of time for doctor and patient," among its other benefits. This could be why physician adoption of telehealth increased by 340% over the past several years and was projected to continue to grow significantly even before the pandemic.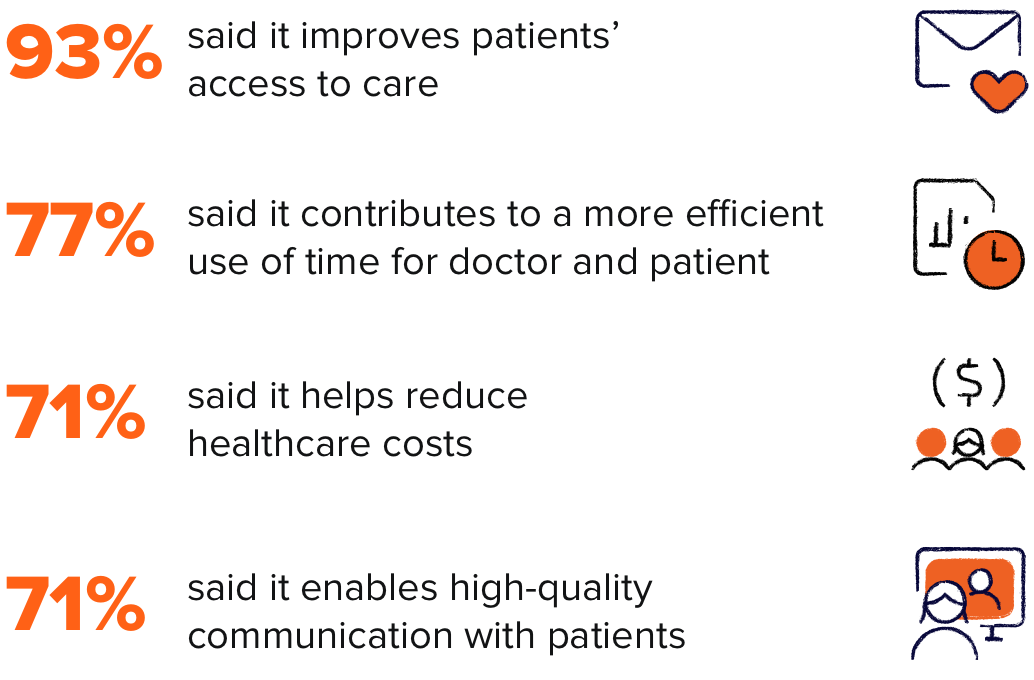 Does this mean you should invest in every type of telehealth technology? Absolutely not. Depending on your patient demographic and goals for telehealth, you may want to start out with introducing just one, maybe a few. To know for sure, consider the strategies below to see what's worth the investment.
1. ONLINE APPOINTMENT SCHEDULING
If you can enable patients to make and reschedule appointments without ever having to contact your office, you can give your personnel more time to focus on the work that technology can't do. In fact, with self-service scheduling, your patients have the flexibility of scheduling and modifying appointments 24 hours a day—not just during working hours.
Another benefit to patients being able to self-schedule is that they're 50% less likely to be a no-show. Not to mention, 26% of appointments are scheduled for the same day or the next, filling up empty slots. This all means healthcare professionals can manage their days more efficiently and there's less wasted time and resources.
"The best self-service scheduling solutions don't just allow patients to make appointments online, they send immediate appointment confirmation notifications to the patient's phone or email address."
The best self-service scheduling solutions don't just allow patients to make appointments online, they send immediate appointment confirmation notifications to the patient's phone or email address. These messages include important appointment details and a link to cancel or modify the appointment, or add the it to Google Calendar (or a similar app).
2. ONLINE BROADCASTS AND REMINDERS
The actual appointment is only a part of what patients today consider when evaluating their healthcare providers. The entire experience should be positive, from beginning to end, which means you should think about the patient experience not as single touchpoints but full journeys.
"For one-to-many communications to be most effective, they need to be part of a larger strategy to enhance patient satisfaction and strengthen their loyalty to their healthcare provider."
One way you can accomplish this is by sending one-to-many communications to patients in between their visits, via email or text. Some popular notices include reminders about flu shots, preventive care, office closures, new services and leaving online reviews.
3. REMOTE CONSULTATIONS & APPOINTMENTS
Many people—even in today's circumstances—will default to in-person appointments if they're able. However, if they knew video conferencing could offer an even higher-quality experience, they might think differently.
This means healthcare providers need to remove the friction out of the video conferencing experience and prove that it can be equal, if not superior to an in-person appointment. One way you can achieve this is by being thoughtful about how you introduce video conferencing to patients.
Be clear about the value of remote visits. Here are some benefits to highlight in your communications about video appointments:
✔️ They're convenient: You can take appointments from home
✔️ They're versatile: You can be seen for a variety of health conditions
✔️ They're safe: You avoid being exposed to sick patients
✔️ They're accessible: You have access to physicians everywhere, not just those in close proximity to you
4. PATIENT PORTALS & MOBILE APPS
Most healthcare providers have virtual patient portals and mobile apps to engage their patients. In fact, more than 90% of hospitals offer patient portal access, but most organizations see less than 25% patient adoption.
5. TWO-WAY MESSAGING
Introducing virtual patient services that will continue to be utilized in the new normal requires you to sprinkle in "delight" factors.
Two-way texting enables physicians and patients to engage with each other in a way that's flexible and more discrete than a live call. Plus, beyond being another way to keep patients engaged, it can have significant benefits, including reducing patient churn and improving/increasing word of mouth and online reviews.
Telehealth technologies are more than temporary solutions—they're longterm investments. Regardless of how the new normal looks, we can expect services like remote consultations, two-way messaging and online appointment scheduling to become even more ingrained in our healthcare experiences.
By implementing them now, you don't just make ends meet during this pandemic—you get a head start on optimizing your remote patient experience in the new normal.